The A-MAZE-ing Corn Maze:
This corn maze packs alot of punch, because this is not your normal corn maze!  Wind your way through 5 acres of challenging fun!  Twist and turn your way to the end and then realize you're only half-way done.  The "end" of our maze is actually the "middle" of our maze.  Take your picture at our "VICTORY STATION" and then run the maze…BACKWARDS...all the way back to the beginning!
Not to worry, if 10 acres of challenging fun seems like a little too much, we have an "Easy Exit" path (this is a great option for the little ones as well!)
For an extra challenge, we have hidden 5 different "bead stations" within the maze.  If you can find all 5 stations and bring the beads back to the ticket booth, you will receive a prize!
The FunZone:
This area is great place to get the most out of your trip to Gospel Farms.  After conquering our A-MAZE-ing Corn Maze, visit our
NEW Xtreme Obstacle Course – Before you is 120′ of the most trying and grueling obstacles you'll face in NW Missouri!  Can you make it to the end?!?
NEW Beam-Trax – Test your balance on this elevated, wooden labyrinth of excitement and see if you can navigate from one end to the other without falling off.
Castle Bounce House – Jump, leap, play, and laugh in this awesome inflatable of fun!
The Tire Pyramid – Climb to the top and declare yourself Pharaoh of Fun!
Hay Bale Hill – No farm visit is complete without having a "hay-day!"
Zip-line Flyers – Soar across the sky (not quite that high) as if having mounted up with wings as eagles.
Pumpkin Patch Picking:
Don't go home without having stopped by the pumpkin patch to pick up a fresh pumpkin from the garden.  Great for carving, painting, chucking (at your house), or eating!  Most pumpkins are only $6!!!
Garden Mum Area:
Don't settle for scrawny, thin mums! Pick your own FULL and BEAUTIFUL fall mums, locally grown here at Gospel Farms for ONLY $10/ea!!  All are in large 10″ pots for a stronger root system. Our colors are Purple, Red, Orange, White and Yellow (while supplies last.)
ADDITIONAL ATTRACTIONS
"The Hunt" 3D Archery Adventure – $10: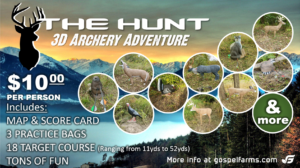 Try out your bow hunting abilities as you bead down on 18 life-like targets.  3D Archery is similar to a round of golf, only instead of hitting a ball to a cup, you're shooting a field tip arrow at an animal target that looks as real as they come.  This is the only attraction at Gospel Farms that can be done without a General Admission Ticket.  For more information, please click HERE.
Damascus Grand Prix Pedal Carts
(ages 5 & up) – $2:
If you're ready to test your abilities on our curvy track, then jump on one of our pedal carts and make your away around the twists and turns of our Damascus Grand Prix!  Race your buddy, outlast your spouse, put your parents to shame, or dominate your
children…we don't judge!  If you have a little one that wants to ride along, we have a jumper-seat that attaches to any of our pedal carts and holds up to 50lbs.
Paintball Shootout – $2:
Do you have what it takes to be an awesome hunter???  Test out your skills at the Paintball Shootout!  We have hanging targets, spinning targets, and easier targets for the novice.  So stop on by and take your best shot!
Rent a Party Pit – $50:
NEW this year at Gospel Farms is a place for you and your family (or group) to hang out and enjoy some time by the campfire, or simply have a designated place to fellowship.  A Party Pit Rental is a 2 hour access to a reserved picnic table area and fire pit (which includes everything needed for small fire for your group.)
Add S'more Fun!!
$2/person – S'more Fun includes extra long marshmallow roasting skewers, and plenty of graham crackers, marshmallows, and of course, chocolate!!
(*Supplies may be limited at times during the season, it is best to let us know ahead of time if you'd like to add S'more Fun to your visit.  Call us at 972-658-6092.)